31.01.20 – 07.02.20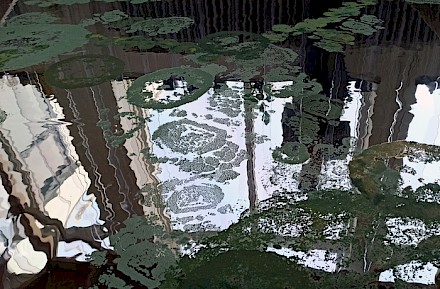 Hot House: liken lichen
liken lichen
A mirrored foil spotting lichen prints
carpets the ground over which
more lichen-marked used silkscreens hang.
Their images grow into one another.
The lichen, a symbiont thrives off
and nurtures its situated community.
One with a biological many,
is preferred, some would say
over yet another
mechanical penny.
– Kent Chan
liken lichen is an exhibition by Marjet Zwaans at the Hot House, curated by Kent Chan.
OPENING
31 January 2020, 17:00 - 19:00
Studio 215, Jan van Eyck Academie
On view between 14:00 - 18:00 on:
1 - 2 February
5 - 7 February
! If you wish to visit, please contact Kent Chan at chankent.08@gmail.com

Jan van Eyck participant Marjet Zwaans (b. 1988 in Groningen, Netherlands) seeks proximity with the material and people she works with. Zwaans proposes a methodology of de-abstraction, a recuperation of seemingly non-essential data that engages with the particular, the ideological, and the psychological. She experiments with orchestrating social gatherings and games that privilege social process over sheer deductive logic.
Zwaans now delves deeper into creating a polyphony of voices, natural organisms, and materials, while continuing to reflect on metaphors used in economic models. Whereas twentieth-century dominant metaphors were preoccupied with the language of mechanical equilibrium (to the exclusion of attendant social inequality, pollution, or exploitation and degradation of materials), writers have since begun to embrace economies as organisms embedded within a natural environment. Zwaans assimilates these lessons: looking around instead of forward, incorporating greater physical labor into her process, and repurposing materials from older artworks into new ones.
Looking attentively at lichen, signifiers of healthy environments. The lichen that grows on tree bark is less a single organism than a symbiosis of multiple algae and fungi. It alludes to the social community at Jan van Eyck and the way its participants, their ideas, and the institute mutually nourish one another through intimacy and trust. This interdependency and responsivity reflect among all Zwaans's artworks, which develop and merge with and through one another.
– Text written by Amanda Sarroff, independent writer and curator
Hot House
initiated by the Jan van Eyck participant Kent Chan, is a structure and space situated within the Jan van Eyck Academie. It presents a series of exhibitions and events that seek to think through art within a hot and humid environment. It brings artworks and audiences together in a curatorial paradigm that is centered upon the abundance of heat and humidity as companions rather than constrictions to thoughts. Shedding light on history, culture, and epistemologies, Hot House poses the questions as to where, when and at which point does thought cease amidst the fermenting of heat and humidity.