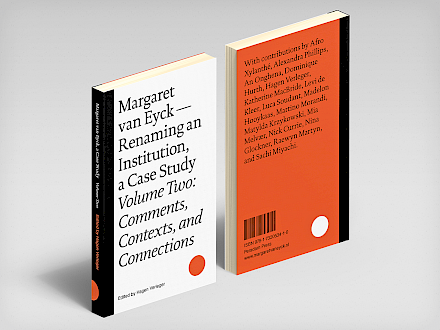 Margaret van Eyck Academie 2019
Hagen Verleger's new book Margaret van Eyck—Renaming an Institution, a Case Study (Volume Two: Comments, Contexts, and Connections) is available online and at Peradam Press and select stockists, to order a copy click here.
Margaret van Eyck is an ongoing, collaborative research project at the intersection of feminist intervention, institutional critique, and the politics of (re-)naming, initiated by former Van Eyck participant, book designer, editor and researcher Hagen Verleger in 2017.
Hagen Verleger changed the Jan van Eyck Academie's name and the name of its Labs by adding a female alternative to each of the all-male namesakes. His intervention is still visible in the academy and on the English version of this website.
MARGARET VAN EYCK comprises of the following components: The Margaret van Eyck Academie is a multidisciplinary institute that furthers experiment, research, study, production and exchange (formerly known as Jan van Eyck Academie). The Caterina van Hemessen Academie was established to connect MARGARET VAN EYCK to the educational institutions in its vicinity (the Hubert van Eyck Academie). The Anne Pétronille Nypels Lab offers all expertise necessary for making (artists') publications, specializing in Riso, relief, intaglio and silk-screen printing (the Charles Nypels Lab). The Luzia Hartsuyker-Curjel Lab incorporates the wood and metal workshops (formerly known as the Heimo Lab). The Wilhelmina Minis-van de Geijn Lab is MARGARET VAN EYCK'S Lab for Nature Research (the Jac. P. Thijsse Lab.) The Thérèse Cornips Lab is the lab for the mind; this is where making acquires its reflective meaning (the Pierre Kemp Lab). The Elsa Stansfield Lab is a laboratory of the new media, in particular sound, film, video and photography (the Werner Mantz Lab).
With contributions by 16 artists and writers from within and around the institution, including Alexandra Phillips, An Onghena, Dominique Hurth, Hagen Verleger, Katherine MacBride, Matylda Krzykowski, Nina Glockner, and Raewyn Martyn, the new book builds upon Margaret van Eyck – Renaming an Institution, a Case Study (Volume One: Research, Interventions, and Effects) and further inspires the debate about the multidimensionality of Margaret van Eyck.
Margaret is an intervention. 
Margaret is an experiment. 
Margaret is an investigation. 
Margaret is an idea. 
Margaret is a vessel. 
Margaret is a mirror. 
Margaret is a question. 
Margaret is a demand. 
Margaret is a gesture. 
Margaret is a tool.
Margaret is a parallel world.
www.margaretvaneyck.nl
facebook.com/margaretvaneyckacademie
https://www.instagram.com/margaretvaneyckacademie/
#margaretvaneyckacademie #mve #parallelworld