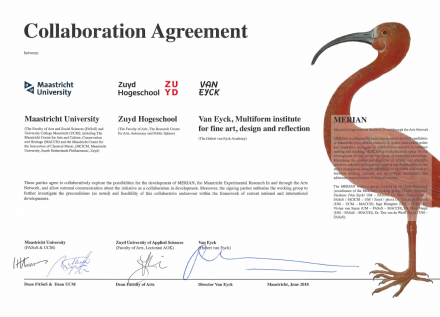 MERIAN Network for artistic research
MERIAN is a network collaboration between the Van Eyck, the Research Centre for Arts, Autonomy and Public Sphere, Faculty of the Arts, Zuyd Hogeschool, the Faculty of Arts and Social Sciences (FASoS), Faculty of Humanities and Sciences (FHS) (University College Maastricht), the Maastricht Centre for Arts and Culture, Conservation and Heritage (MACCH), and the Maastricht Centre for the Innovation of Classical Music (MCICM), Maastricht University (UM).
These parties have now agreed to collaboratively explore the possibilities for the development of MERIAN, the Maastricht Experimental Research In and through the Arts Network, and allow external communication about the initiative as a collaboration in development. Moreover, the signing parties authorise the working group to further investigate the preconditions (as noted) and feasibility of this collaborative endeavour within the framework of current national and international
developments.
MERIAN will be a Maastricht-based network for PhD candidates in artistic research. It  will set out to invite established artists and academics to engage in collaborative research in between making and thinking. MERIAN will be an institutional space for the development of new norms and forms of embodied knowledge. Mobilizing the powers and fragilities of artistic and scientific practices, selected participants engage in innovative methods and styles of empirical research. MERIAN renegotiates relationships between existing cultural and knowledge institutions and addresses urgent matters of societal concern.
One of the reasons to establish the Hubert van Eyck Academie was to set up this PhD programme together with Maastricht University and Zuyd Hogeschool. The Van Eyck is very happy that the collaboration agreement now has been signed and we can move forward in realising the MERIAN Network.
MARIA SYBILLA MERIAN
The name-giver of the MERIAN network for artistic research in Maastricht is the early modern artist-scientist Maria Sybilla Merian (1647-1717) from Frankfurt am Main. While most of her fellow colleagues and contemporary scholars were interested in the collection and classification of plant and animal species, Merian was focussed on investigating "organismal interactions": she wanted to uncover the relationships and familiarities between, and the life cycles of the organisms she was studying. Merian was a natural historian who meticulously wrote about and illustrated her research on plant and animal species, especially insects, in, among others, the Dutch colony of Surinam. However, in historical accounts, she came to be seen as an artist almost exclusively. Especially her exquisite watercolour and oil paintings and engraved copperplates formed her reputation within the fine arts domain.