28.05.19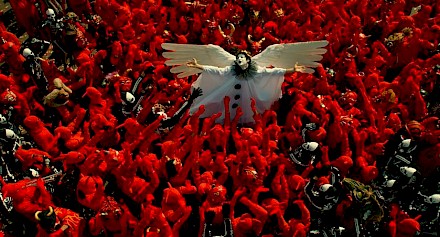 New Religious Movements
We are happy to invite you to our next Reading Group on Tuesday the 28th of May, 18:00 - 20:30, when we will discuss New Religious Movements.
"Today… to speak of the soul, or even of interiority, is to mark oneself as a relic", writes Elizabeth Goodstein.
The resurgence of interest in cults and sects shows otherwise. More commonly referred to as New Religious Movements or New Religions, these groups have brought spirituality back to light. 
In this reading group we will explore where the need to join these groups comes from and what type of knowledge is exchanged within their hierarchies (student/teacher, leader/disciple). To discuss these questions, we propose the following texts:
1)      "Human Existence and Sanctified Life" (in The Sacred and the Profane) by Mircea Eliade, a text on religious behavior.
2)      Pedagogy of the Oppressed, chapter 2, by Paulo Freire, where the character of the teacher/student relationship is examined.
3)      Blessed are the wealthy*, which examines Lakewood, the biggest megachurch in America. Part 1, part 2, part 3. 
*Title of article as it appeared in the print version. The online version title is: A preacher for Trump's America: Joel Osteen and the prosperity gospel.
For those interested in the topic, here is a link to a podcast on the cult NXIVM.

The Reading Group will take place in the Library or, if the weather allows, in the vegetable garden. We will prepare some drinks and snacks.
We would appreciate it if you read the texts in advance. Free copies of the texts can also be found in the library.
Please let us know if you would like to participate.
Happy readings,
Yasmine and Victoria.
Photo: Still from Endless Poetry. Directed by Alejandro Jodorowsky. Courtesy of ABKCO Films, Inc. © 2016 Satori Films, Le Soleil Films Y Le Pacte