03.09.14 – 02.11.14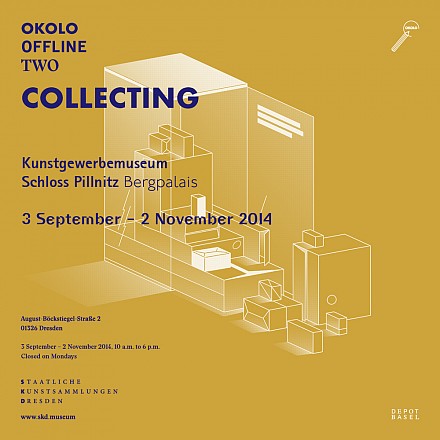 Okolo Offline Two - Collecting
Current Van Eyck participant Matylda Krzykowski co-curates Okolo Offline Two - Collecting in Staatliche Kunstsammlungen Dresden
The members of Okolo are fascinated by the meaning of objects. They scrutinise the world of things with finely tuned sensibility, and post selected examples of paradigmatic design on their blog, okoloweb.cz. This particular interest has transformed the collective into a group of collectors. 
The quintessentially human theme of collecting is therefore the focus of the exhibition, which casts light on both private and museum collecting. Experts express their views, and finally several specific themes are explored through examples. Each week, the content of the exhibition is augmented by a blogpost on okoloweb.cz, thus making it accessible to a wider public beyond the exhibition.
With contributions by Volker Albus, Jan Boelen, Moniek E. Bucquoye, David Clarke, Rudolf Damm, Bernadette Deddens, Amac Garbe, Carl Haase, Heinrich von Kleist, Tomáš Libertíny, Kai Linke, Stefan Linkewitz, Pet van de Luijtgaarden, Jana Scholze, Robert Štěrba, Bernhard Maaz, Agata Nowotny, Stefan Pabst, Héloïse Parke, Konrad Weber, Jo Zarth, Sebastian Zimmerhackl .
curators: Matylda Krzykowski (Depot Basel) and Adam Stech. 
Prior to the opening (5 p.m.) curator Matylda Krzykowski (Depot Basel) gives a lecture on the topic of "Why do we collect?"  
This exhibition is a collaboration between Okolo (CZ) and Depot Basel (CH) for the Kunstgewerbemuseum Dresden, Germany. 
More info:
http://depotbasel.ch/en/2014/02/05/20-okolo-offline-2/
http://www.skd.museum/de/sonderausstellungen/okolo-offline-two/index.html