19.06.14 – 07.09.14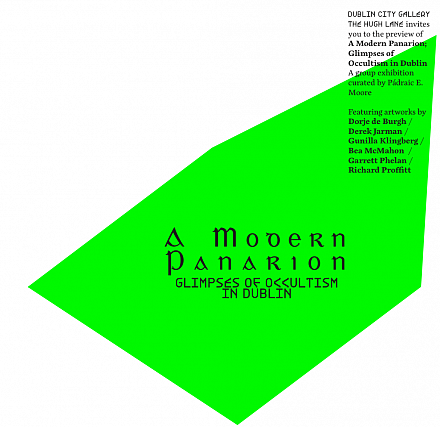 Pádraic E. Moore - A Modern Panarion: Glimpses of Occultism in Dublin
Pádraic E. Moore, current Van Eyck participant, curated the exhibition A Modern Panarion: Glimpses of Occultism in Dublin, in the Dublin City Gallery The Hugh Lane.
This exhibition features contemporary artists whose works resonate with ideas central to the belief system of The Theosophical Society. The Society was founded in New York in 1875, espousing a doctrine synthesised from esoteric religious, philosophical, and scientific ideas and aspiring toward the formation of a universal community in which all religions, creeds, and races were equal. The popularity of Theosophy in the late-nineteenth and early-twentieth centuries was considerable, rapidly attracting a community of adherents worldwide from amongst the many disenchanted people who sought spiritual guidance and vital inspiration in an increasingly secular and industrialized world.

None of the artists participating in the exhibition are themselves Theosophists. However, all of the artists in A Modern Panarion — Derek Jarman, Gunilla Klingberg, Bea McMahon, Garrett Phelan, and Richard Proffitt — pursue an interdisciplinary practice which involves research into realms beyond the material world. A common denominator in the artists' work is a fascination with unseen worlds and a desire for some form of intuitive transcendence.
More info: www.hughlane.ie