15.11.18 – 02.12.18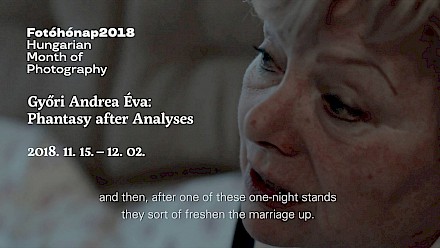 Phantasy after Analyses
During the Hungarian Month of Photography, Van Eyck participant Andrea Éva Győri presents her exhibition: Phantasy after Analyses in Budapest.
About:
Andrea Éva Győri tends to make performative works; her collaboration-based projects produce drawing series, video works and photos. Marked by a decidedly analytical method and a desire to get to the bottom of things, her works study the connections between (female) intimacy, desires, fantasies, the body and the mind.
The exhibition is directly related to the central theme of Photo Month 2018, the body, and indirectly to the focus of the Budapest event series, as it looks at the medium's potentials for self-reflectivity. If Győri uses photography and video to document the process-based works, they invariably go beyond their original purpose and almost always invite the viewer to participate.
Curator: Lili Boros