16.05.14 – 17.05.14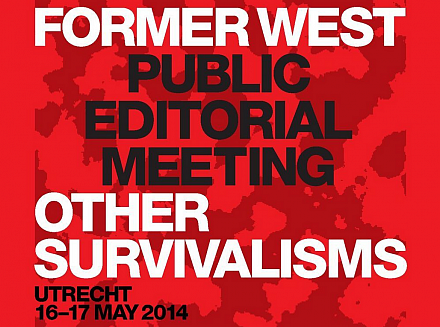 Rachel O'Reilly in research seminar Other Survivalisms
Writer/curator and Van Eyck participant Rachel O'Reilly has been invited to participate in Other Survivalisms, the second FORMER WEST Public Editorial Meeting on 16 and 17 May 2014, hosted by BAK, basis voor actuele kunst, Utrecht. These small-scale gatherings geared towards the realization of the forthcoming FORMER WEST publication, taking the editorial meeting as a model for informal (re)negotiations of the living knowledge within BAK's research project FORMER WEST (2008–2016).
Other Survivalisms, curated by Boris Buden, Maria Hlavajova, and Simon Sheikh, explores the notion and practices of "survival" through a number of parallel lines of study. The meeting will collectively discuss themes such as the notion of survival as "afterlife," which proposes an alternative to the ideology of "post-isms"; questions around instituting-in-common in the field of art and beyond; and the question of "survival" in the economic and environmental sense.
Contributors include: Boris Buden, T.J. Demos, Mark Fisher, Maja Fowkes and Ruben Fowkes, Katherine Gibson, Maria Hlavajova, Massimiliano Mollona, Alexei Penzin, Andrea Phillips, Simon Sheikh, Marina Vishmidt, Poka-Yio, and others.