20.05.19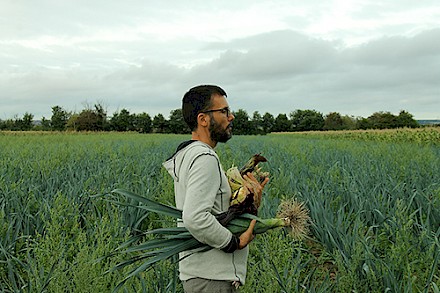 RESTAURO: Environmental Sculpture
On Monday, May 20, the Gerrit Rietveld Academie in Amsterdam will host two talks: Bracelets are Made for Difficult Times by Irma Földényi and Evelien Bracke, and RESTAURO: Environmental Sculpture by Jorge Menna Barreto, one of the Van Eyck's participants.
WHEN
17:30 Bracelets are Made for Difficult Times 
19:30 RESTAURO: Environmental Sculpture
WHERE
Gerrit Rietveld Academie
Auditorium - Fed Lev Building
Frederik Roeskestraat 96, Amsterdam
RESTAURO: Environmental Sculpture
Forests are essential for life on earth. Today, up to 90% of the deforestation in the Amazon is due to monoculture and livestock farming. The way food is produced is devastating the planet. In collaboration with local chefs and farmers, RESTAURO ('restoring') operates as a restaurant and addresses the environmental crisis by considering what is on our plates. The menu prioritises the diversity of the plant kingdom and agroforestry - an ancient indigenous form of growing food in alliance with the forest. The restaurant thus becomes a non-site of the forest, creating an experience that is eco-gastronomical where food is the main link. Imagining our mouths as sculptural tools, meals are seen as part of an 'Environmental Sculpture'  in progress where the act of eating conjointly shapes the landscape and increases biodiversity. Placing an emphasis on education, RESTAURO proposes a 'Pedagogy of the Forest' which is both discursive and experiential.
Re-inscribing agriculture into culture, RESTAURO was commissioned and served over 30,000 plant-based meals in the Bienal de Sao Paulo 2016. It is now becoming a book and touring in Brazil and abroad, always working site-specifically and responding to the particularities of each hosting context.

JORGE MENNA BARRETO (b. 1970, Brazil)
is an artist and researcher who lives and works in Rio de Janeiro. Throughout his practice, Barreto has let specific sites determine what he will build and, more recently, what he will eat. Interested in agroforestry, land art, site-specificity, plant-based food and multispecies assemblages, he considers our digestive system as a sculptural tool that has the ability to shape our landscape. His award-winning, long-term project Restauro: Environmental Sculpture was first presented at the 32 Bienal of São Paulo in 2016 and travelled to the Serpentine Galleries, London, in 2017.
Barreto holds a PHD in studio art and is a professor at the State University of Rio de Janeiro since 2015.