07.11.14 – 14.11.14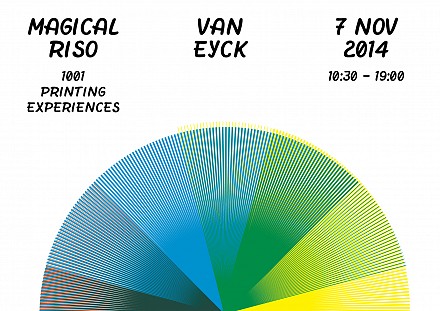 RISO
Eerste Internationale RISO Expert Meeting:
MAGICAL RISO
1001 Printing Experiences
Vrijdag 7 November van 10.30 tot 19.00 uur 2014
The day's programme comprises lectures, presentations and demonstrations. Featured speakers include representatives of Knust /Extrapool, Hato Press and Issue Press, among others. They will generously share their expert skills and knowledge and go deeper into the range of possibilities of self-publishing for artists, the unexpected colour effects and richness of various types of stencil printing.
At the Charles Nypels Lab experts of the lab and of RISO will be giving demonstrations and will unfold the unsuspected potentials of the A3 and A2 Duplicator.
The abundant programme further constitutes a RISO exhibition that showcases old stencil machines and printed matter that is made especially on the occasion of the International Expert Meeting by artists Johannes Schwartz, Rob Johannesma, Julie Peeters and Chaim van Luit, among others.
The full programme can be accessed here.
Participation in the Expert Meeting is by invitation
Info via: register@janvaneyck.nl
The first International RISO Expert Meeting is organised by the Van Eyck in collaboration with RISO BENELUX    
With the kind support of the Ministry of OCW, the Province of Limburg and the City of Maastricht
Participants  Exhibition, on show 7 - 15 November:
Contributors printed matter:
Johannes Schwartz eand Experimental Jetset
Maurer United Architects
Filip van Dingenen
Dominique Hurth
Romy Finke
Miek Zwamborn
Kevin Reynaert
Dongyoung Lee
Sigrid Calon
Emmy van Thiel
Janna en Hilde Meeus
Inga Meldere
Stefano Faoro
Kyuha Shim
Yeb Wiersma
Julie Peeters and Johannes Schwartz
Jan Willem Deiman
Salome Schmuki
David Bennewith
Paul Bailey
Zohra Opoku
Hyojun Hyun
Hana Miletic
Rob Johannesma
Carl Haase
Chaim van Luit
Sjoerd Westbroek
Erik Sleijpen
Steve Bowden
Margriet Thissen
Lyanne Polderman
Astrid Mingels and Dylan Van Elewyck
Caspar Frenken
Film on stencil machines:
Charlotte Lagro