24.11.16 – 11.03.17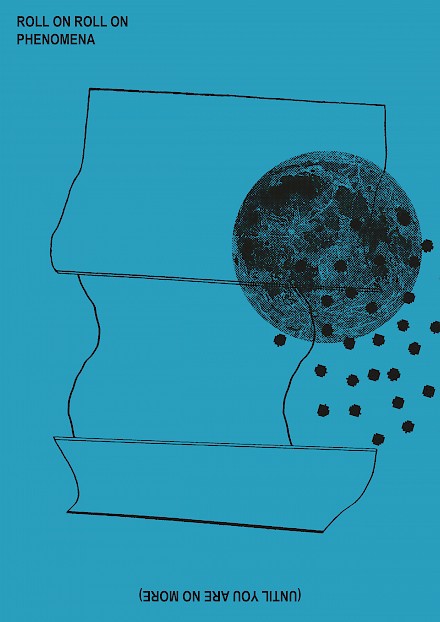 Roll on, Roll on, Phenomena (until you are no more)
Van Eyck deelnemer en curator Eloise Sweetman ontwikkelt een (tentoonstellings)programma in en rondom haar studio.
Vanaf 24 november 2016 t/m de Open Studios van 9-11 maart 2017 zal zij verschillende publiek toegankelijke tentoonstellingen, presentaties en readings organiseren. Startend vanuit onwetendheid, geeft Sweetman ruimte aan het onverklaarbare, onpeilbare en ongeregelde en wordt haar studio een steeds veranderende ruimte van toevallige bijeenkomsten en kortstondige ontmoetingen.
Met bijdragen van o.a.: Mi yeon Lee (KR), Jo-ey Tang (US/FR), Anna Maria Łuczak (PL/NL), Kornkrit Jianpinidnan (TH), Katie West (AU), Arin Rungjang (TH), Peach (NL)
Huidig programma:
*Werk van Katie West zal in het Pierre Kemp Lab (bibliotheek) te zien zijn van 18 januari - 1 februari
*Peach zal in Eloise's studio tentoonstellen van 24 januari - 14 februari
* Op 2 februari om 13.30 uur vindt de lunch-lezing Crossing community boundaries: migration and the construction of 'not-belonging'  door Marjolein Schepers plaats in studio 115, voor meer info, zie hieronder
*Het audiowerk 'Mae Boonchoung Dendoung' van Arin Rungjang is te horen in het Charles Nyples Lab for Printing & Publishing van 9 - 23 februari om 11.00 en 15.00 uur. During the Cold War, Mae Boonchoung Dendoung was a popular Mor Lam singer in Thailand and sang for both side of the conflict. In this audio work by Arin Rungjang three songs can be heard: two about communism and one about democracy.
*Martine Batchelor een skype lecture performance geven op 26 januari. Louwrien Wijers spreekt op 7 februari (voor meer informatie zie Talks Programme hieronder).
Iedereen welkom!
OVER
Roll on, Roll on, Phenomena (until you are no more)
'Not knowing is the most intimate' is an evolving thinking process without a settled trajectory, as how could it be otherwise? We float; companions in moments of not knowing, as a way of intimately being and becoming together. In these moments, a space is opened to the unexplainable, the unfathomable, the messy in their multiple bodies, shapes, and forms.
Through a gradual unfurling, Roll on, Roll on, Phenomena opens up ways of coming together through acts of not knowing and intimacy. Beginning in the studio, the programme unfolds over time with a shifting rhythm, as it expands outward it moves through different spaces in the van Eyck building. Over time the programme radiates out into the city of Maastricht itself, where the studio circles back as an ever-changing space of communal gathering and momentary encounter.  
Roll on, Roll on, Phenomena looks at not knowing as more than saying 'I don't know', rather it is an entwined act of vulnerability and responsibility. Intimacy is proposed as the interconnected relationships that emerge, flicker, and disappear over and over again; that are opened out by not knowing. As a discursive exhibition program, the artworks, readings, talks, and audience become companions, intersecting, breaking apart, and reconfiguring in an iterative and continuous becoming with the world.
PRAKTISCHE INFORMATIE
open van:
12.00-16.00 uur, ma-vrij of op afspraak in het weekend
Adres: 
Studio 115 (tegenover de bibliotheek)
Van Eyck 
Academieplein 1
6211KM Maastricht

Tel nr: +31 6 11 86 43 45
Email: mail@eloisesweetman.com​
Website: www.rollonrollonphenomena.com
READING GROUP
Hosted by Van Eyck Participants Eloise Sweetman, Sol Archer, and Marco Balesteros, the informal reading group meets fortnightly with soup and a new text to read together. The trajectory or theme of the reading group emerges over time and is determined by the group but touches upon learning and community. In this way the reading group turns the studio into a communal meeting place and the sharing of a varying range of knowledges and voices. There is no expectation to prepare for the readings in advance, but you are welcome to do so should you wish. We also welcome anyone that would like to listen, as there is no pressure to read aloud.  The reading group is open to anyone who wishes to join in. Email eloise@rollonrollonphenomena.com to let us know that you will be attending and to receive the text in advance. We also invite you to bring an ingredient for the soup.
 
Time: 18:30 - 20:30
Date: 24 November, 6 December, 20 December, 10 January, 24 January, 31 January, 14 February, 28 February
TALKS PROGRAMME Roll on, Roll on, Phenomena Listens
The talks program begins on Thursday 26 January with a lecture performance by Martine Batchelor on the concept of 'What is this'. Following Martine, on Tuesday 7 February is a session with artist and writer Louwrien Wijers on listening with a focus on the question and the answer. Kindly email mail@eloisesweetman.com if you would like to attend either of this talks, to save you a seat.  
Martine Batchelor was a Zen Buddhist nun in Korea for ten years. She teaches meditation retreats worldwide. She is co-editor of "Buddhism and Ecology" and editor of "Women on the Buddhist Path". She is the author of several books including her forthcoming book "Let Go: a Buddhist Guide to Breaking Free of Habits". She is interested in meditation in daily life, Buddhism and social action, religion and women issues, Zen and its history factual and legendary.
Louwrien Wijers was involved in international art movements like Fluxus, Conceptual Art, Performance Art and Social Sculpture and wrote to the late sixties in the Algemeen Handelsblad and Museumjournaal and from 1986 to 1998 in Het Financieele Dagblad. In September 1990 she brought artists, scientists, spiritual leaders and economists together at the Stedelijk Museum for five days panel dialogues with the title 'Art meets Science and Spirituality in a changing economy'


LUNCHTIME LECTURE 2 FEBRUARY
Roll on, Roll on, Phenomena and Peach invite you to join us on Thursday 2 February for a lunchtime lecture by Marjolein Schepers titled 'Crossing community boundaries: migration and the construction of 'not-belonging'
Roll on, Roll on, Phenomena hosts exhibition space Peach in studio 115 for three weeks. In turn, Peach has invited Historian Marjolein Schepers to give a lecture on migration. In Schepers' lecture, she will focus on notions of the migrant as the unknown, the other, not belonging to the home nor host community. Marjolein will discuss negotiations and conflicts concerning which community is responsible for migrants, using her current research project on eighteenth-century Flanders and France as an example. This lecture will provide deeper insights into the boundaries of communities, the membership of migrants and the problematization of migration.

Marjolein Schepers (1990) is a Dutch historian, living and working in Brussels. She is a member of research groups 'Historical Research into Urban Transformation Processes' (VUB Brussels) and 'Economies Comparisons Connections' (Ghent University). She is specialised in migration history and has conducted research on topics as citizenship, (post-) colonial membership and the institutionalisation of integration courses. Her current research project deals with the dilemma of community-based poor relief and cross-community mobility. This PhD-project investigates the negotiations between cities, rural areas and national governments in the border regions of eighteenth-century Flanders and France concerning migration and migrants' access to welfare.
Kindly email mail@eloisesweetman.com if you would like to attend. The lecture will be held in studio 115, opposite the Pierre Kemp Lab at the Jan van Eyck Academie.