13.02.15 – 08.05.15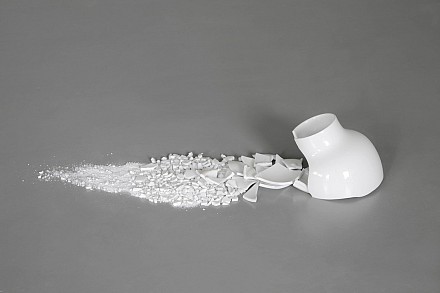 Stéphanie Saadé - Discipline of Nostalgia
Current Van Eyck participant Stéphanie Saadé is exhibiting her work in Discipline of Nostalgia, a solo exhibition at adhoc galeria, Vigo, Spain, from February 13 to May 8, 2015. 
For more information, visit: www.stephaniesaade.com
The Distance 
"The distance begins when entering the space. The visitor arrives in a moment of expectation and this pronounces the expanse of the work in relationship to their physical presence. Only the concept of commemoration will bring these two closer. A cycle of personal attribute lures them nearer. Determined by the moon and the delicate nature of the artist's personal corporeality a bond is begun. And yet this relationship is then immediately undermined by a symbol of separation. A lone historical fragment – once part of a larger certainty - now alone on its own account and aligned with magnetic autonomy. The distance remains continuous. Where two lines of thread meet is not a celebration of union but a reminder that love is compelled to the commencement of two individual foundations, each starting at their own end. Love beginning only where these ends join. A distance met.
The work of Stéphanie Saadé is a promise. The materials she works with take form in the shape of minute tokens of reminiscence. Memories that have yet to be called upon. The sense of time that they offer is undetermined. Even though their source seems to be her own precise and personal reflection, they maintain an indistinct familiarity. The apparent delicateness with which their physical attributes have been brought together and the indeterminate quality of their meaning leave the viewer with the feeling that they are witness to an intimate narrative that could be theirs. Their instantaneous belief of this notion has them wonder as to the possibility of their own fitting memory. Neither the title, the origin of the work or its material value is definite. It is their poetic manifestation that allows for elucidation. Yet it is this form of presence that keeps the audience both close to what it sees and reads, but uncertain as to its proximity. The distance remains." -  Huib Haye van der Werf