09.10.14 – 18.01.15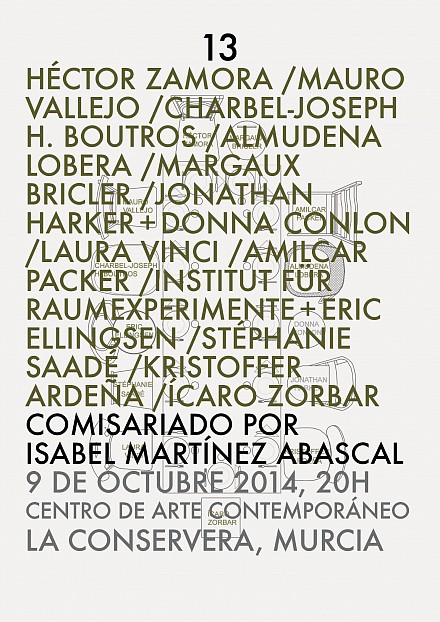 Stéphanie Saadé en Charbel-joseph H. Boutros in La Conservera, Murcia, Spanje
Huidig Van Eyck deelnemer Stéphanie Saadé en ex-deelnemer Charbel-joseph H. Boutros, tonen werk in de groepstentoonstelling 13, in LA CONSERVERA, Murcia, Spanje.
Over de tentoonstelling: Personal affinities between curators and artists are usually silenced in contemporary exhibitions. Sample 13 will, however, squeeze this circumstance, calling attention to the relationship with the individual as a vehicle for knowledge of his work. The viewer is thus presented a journey of intimate encounters with the work and the figure of thirteen artists.
This exhibition project defining gathers works by artists from the Philippines, Lebanon, Germany, France, Spain, USA, Mexico, Panama, Colombia, Brazil and Chile, all linked by common concerns spatiotemporal and heterogeneous production gravitates the wide world of post-conceptualism.
LA CONSERVERA, Murcia, Spain 
October 9 - January 18, 2014
more info: La Conservera