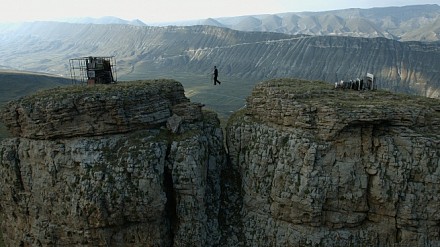 Talk Taus Makhacheva at ICA, London
Van Ecyk deelnemer Taus Makhacheva spreekt over haar artistieke praktijk op vrijdag 13 november in ICA, London. 
Daghestani-Russian artist Taus Makhacheva discusses her art practice with curator Kasia Redzisz on Friday 13 November at ICA London. Makhacheva's performance-based works and films often question traditional forms of history-making. 
Taus Makhacheva (b. 1983, Moscow, lives and works in Makhachkala), winner of Future of Europe prize (Museum of Contemporary art, Leipzig, 2014); Innovation state prize in contemporary art (2012), holds a BA in Fine Art from Goldsmiths College (London, 2007) and an MA from Royal College of Art (London, 2013).
Selected exhibitions include: (In)sidenotes (2015, Uppsala Konstmuseum, Uppsala); Too Early, Too Late. Middle East and Modernity (2015, Pinacoteca Nazionale di Bologna, Bologna); Untitled... (Native Foreigners) (2014, Garage Museum of Contemporary Art, Moscow); A Walk, A Dance, A Ritual (2014, Museum of Contemporary Art, Leipzig); What? Whose? Why? (2013, Raf projects, Tehran); Story Demands to be Continued (2013, Republic of Dagestan Union of Artists Exhibition Hall, Makhachkala); and Love me, Love me not (2013, 55 Venice Biennial, collateral event, Venice).
Part of Culture Now: a series of lively Friday lunchtime conversations for the culturally curious, with key figures from the contemporary arts scene.
More info: ICA 
Image: Taus Makhacheva, production still, Tightrope, 2015. Courtesy the artist