09.12.16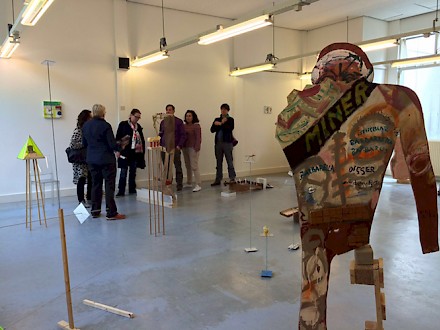 Techno-Scientific Innovation and Waste: Opportunities and Consequences
On 9 December the Van Eyck will host Techno-Scientific Innovation and Waste; Opportunities and Consequences, a cross-disciplinary day of speakers, art installations, participatory activities and interactive discussions  by the smARTcities and Waste network. Organized by Dr Alex Plows, Bangor University, Wales and Professor Graeme Evans, Maastricht University FASOS; with artist Irene Janze (Buro jan-ZE, Amsterdam) and environmentalist, James Baker (Selor EEIG, The Netherlands).
New sci/tech innovations, particularly bioplastics and polymers, and the impacts of industrial waste, will be a key focus of this workshop. The ethical, social, environmental and other implications of new technologies and innovation in the area of waste treatment, will be discussed and explored.
The full programme of the workshop is available here. To reserve a place at this FREE workshop please email a.plows@bangor.ac.uk
The workshop is part of a 2 year UK-Dutch research network smART Cities and Waste funded by the Arts & Humanities Research Council. The aim of the network is to develop a forum for knowledge exchange and debate across art & humanities and science disciplines, with a common focus on waste treatment and innovation. This will seek to develop responses to the questions: how can arts based approaches inform waste management innovation techniques and processes; and how does place - local context, identity, culture, governance - make a difference to waste generation, waste innovation and uptake? 
Time: 09.30-17.00 
Location: Van Eyck Auditorium
More info here