01.06.17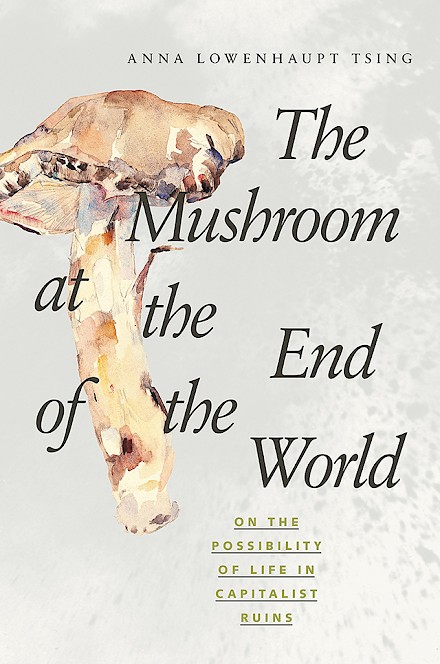 The Mushroom at the End of the World: On the Possibility of Life in Capitalist Ruins
NON-HUMAN NARRATIVES Reading Group
georganiseerd door het Jac. P. Thijsse Lab voor Natuuronderzoek
1 juni om 18.00 uur, buiten voor het Lab.
Iedereen welkom om deel te nemen aan de eerste Reading Group, onderdeel van de tentoonstelling Non-Human Narratives; stories from bacteria, fungi and viruses
Over:
The Reading Group is organised in anticipation of the upcoming exhibition at the Van Eyck called Non-Human Narratives; stories from bacteria, fungi and viruses, opening on the 16th of June. The show is an attempt to make the mysterious life of microbes visible through dishes, performance and art installations. In this (literally) growing exhibition, stories (think mycelium bricks, méjou, kefir, kombucha and koiji bacteria) are translated into dishes by chef/food-designer Marente van der Valk and designer/architect Rain Wu. The food installation includes a Fermentation Lab by Ju Hyun Lee & Ludovic Burel, doing ongoing experimentations with fermentation. The show will be activated through a succession of dinners, performances, lectures and film screenings and in this case, a Reading Group. 
On the first of June we will be reading and discussing fragments from The Mushroom at the End of the World: On the Possibility of Life in Capitalist Ruins by Anna Lowenhaupt Tsing, with an introduction by a special guest from Germany: Sina Ribak.
You are not expected (though welcome) to have read the whole book; once you have registered you will receive the page numbers of which fragments we suggest you to have read for this session.
Please email Yasmine Ostendorf: yasmine.ostendorf@janvaneyck.nl if you would like to join. Drinks and snacks will be arranged, all you need to bring is an open mind and thoughts about the fragments. 
'The time has come for new ways of telling true stories beyond civilizational first principles. Without Man and Nature, all creatures can come back to life, and men and women can express themselves without the strictures of a parochially imagined rationality. No longer relegated to whispers in the night, such stories might be simultaneously true and fabulous. How else can we account for the fact that anything is alive in the mess we have made?
Following a mushroom, this book offers such true stories. Unlike most scholarly books, what follows is a riot of short chapters. I wanted them to be like the flushes of mushrooms that come up after a rain: an over-the-top bounty; a temptation to explore; and always too many. The chapters build an open-ended assemblage, not a logical machine; they gesture to the so-much-more out there. They tangle with and interrupt each other—mimicking the patchiness of the world I am trying to describe.' 
- Anna Löwenhaupt Tsing