08.09.15 – 01.11.15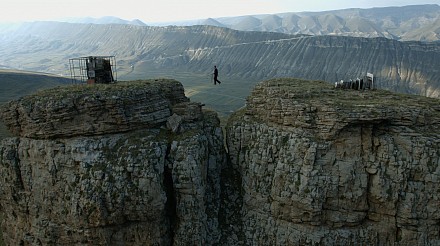 "The School of Kyiv" - Kyiv Biennial 2015
Van Eyck deelnemer Taus Makhacheva toont haar nieuwe werk "Tightrope" en het oudere werk "Landscape" en doet een performance tijdens "The School of Kyiv"/de Kiev Biennale.
Kicking off in Ukraine in September 2015, "The School of Kyiv" will take place in a variety of settings in the city of Kyiv. The international biennial project unites the efforts of artists, intellectuals, social initiatives and institutions in Ukraine, Europe and beyond. The biennial aims at creating a public space of reflection, breaking down barriers, and building bridges in the time of warfare.
"The School of Kyiv" incorporates exhibitions and performances, film, multimedia experiments and broadcasts, and integrates permanent and open situations for learning and research. Beyond this, in cooperating with local and international institutions the biennial will create new structures and catalyse knowledge transfer outside of Kyiv. One of its main goals is to keep channels of artistic and intellectual exchange open. 
08.09.2015 – 01.11.2015
http://www.theschoolofkyiv.org/