01.07.14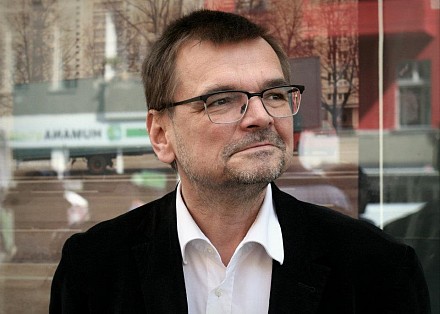 The Song, the Drone and Sado-Masochism in Warhol's factory - Diedrich Diederichsen
Diedrich Diederichsen, Duits schrijver, muziekjournalist en cultuurcriticus, werkt continu rond popmuziek, hedendaagse kunst, moderne compositie, cinema, theater, design en politiek. Diederichsen geeft een lezing getiteld "The Song, the Drone and Sado-Masochism in Warhol's factory" in de Van Eyck op dinsdag 1 juli.
U bent van harte welkom!
Locatie: Van Eyck auditorium
Tijd: 17.30 – 18.30 uur
Borrel: 18:30 – 19:30 uur 
De lezing is gratis, maar reserveren is gewenst (anne.vangronsveld@janvaneyck.nl)
Abstract van de lezing:
"There were some collaborative partnerships in Andy Warhol's factory and the world around it, who consisted of two very antagonistic personalities: Warhol and Ronald Tavel, Lou Reed and John Cale, Tony Conrad and La Monte Young, but also between Warhol and the favourite superstar of the hour: Warhol and Edie Sedgewick, Warhol and Ingrid Superstar, Warhol and Nico. Some of these relations were full of conflict, not only on a personal level, but also between models of artistic production and their ideology. While the conflicts happened on the level of form (i.e. long duration vs. hypernervousness) and private relation, everybody agreed upon the content: from "Venus in Furs" to "Hedy, the Shoplifter": Sadomasochism."
Bio:
Diedrich Diederichsen begon zijn carriere in de jaren 1980s als redacteur/uitgever van muziekmagazines in Hamburg en Keulen (Sounds, Spex). Sinds de vroege jaren 1990 werkt hij als visiting professor in o.a. Stuttgart, Pasadena, Offenbach, Munchen, Weimar, St. Louis, Keulen, Los Angeles en Frankfurt. 
Sinds 2006 is hij Professor voor theorie, praktijk en communicatie van contemporaine kunst van het instituut voor kunstgeschiedenis en culturele studies verbonden aan de kunstacademie van Wenen.   
Diederichsen schrijft voor verschillende tijdschriften in de Duitssprekende landen ("Texte zur Kunst", "Theater heute", "Cargo", "Spex", "Die Zeit", "tageszeitung", "Süddeutsche Zeitung" en vele andere).
meer info: http://diedrich-diederichsen.de/