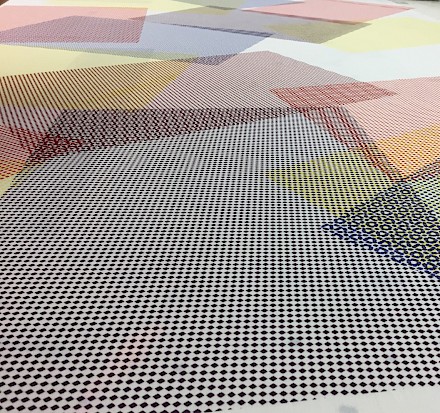 Under the Influence of Color
The In-Lab Under the Influence of Color invokes the distinct sensory elements that contribute to the perceptual soup we call atmosphere (color, smell, taste, light, sound).  Light and color can be seen as inseparable entities, as the former makes way for the latter. The manipulation of light leads to the wrangling of color, influencing the degree to which it is suppressed, liberated, differentiated, or assigned meaning. Color functions as an invitation or deterrent; as informant or signifier; and as aid to seduction or disgust. What if these codes were somehow re-framed and remixed? And how does the quality of light precipitate different responses to the same source material? Using food as a primary catalyst, Under the Influence of Color will examine the parallels between bodily ingestion and visual consumption, from the naturally occurring, distilled, and synthesized contexts of food and image, and the mechanisms of production and application that have ensued.
Under the Influence of Color is an In-lab by Anne Huijnen, Marente van der Valk, Lyndon Barrois Jr, Ana Guedes and Ed Begley, and has invited visual artist Addolely Dzegede and Food Artist Celene Plecé as collaborators.
--
On Tuesday the 15th of January from 16:30-20:00, the In-Lab Under the Influence of Color will stage its first tasting event Color Through Time, a light sensitive tasting in seven stages.  The In-Lab welcomes visual artist Addoley Dzegede and food artist Celine Pelcé, whose respective talents have been integral in the atmospheric design of the event. Since time is of the essence, the event will begin promptly at 16:30 in the Jac P. Thijsse garden. There is space for a maximum of 20 participants. If you would like to join, please send an email to lyndonbarrois@gmail.com
The first event Color Through Time takes inspiration from Jun'ichiro Tanazaki's text In Praise of Shadows (1977), and will use food to facilitate dissonance between perception and experience, as the relationships between appearance, taste and texture become complicated and re-adjusted. Approaching the sensorial experience through technological time, the evening will fast forward through centuries of evolving light sources, and transition from handmade to mechanized methods of food handling. The various flavors served over the course of the evening will explore, through a kind or reenactment, changing environmental sensibilities that redirect the aesthetic experience of the beholder.
The flicker of the flame finds familiarity in the fluorescent tube, but so much has changed in the span of time between them. This first event seeks to offer its participants a time traveling of sorts, compressed into a few hours, towards a kind of atmospheric schizophrenia. Maybe the future is made from the past? Or maybe the past is just a collection of future artifacts?