26.09.15 – 11.10.15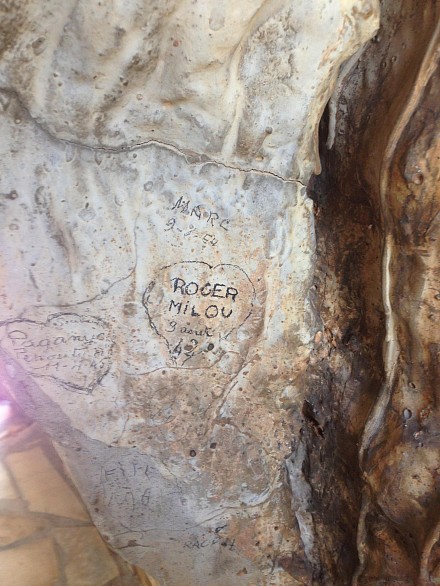 Vorrei non vederti oggi per vederti tutti gli altri giorni
Van Eyck deelnemer Marco Gobbi neemt deel aan de groepstentoonstelling Vorrei non vederti oggi per vederti tutti gli altri giorni in Franchising Mercatino, Milaan.
Over de tentoonstelling: 
I was sprawled on the beach while I waited for them to return from their canoe ride. The high-performance heat was nourishing my skin and the devices were scattered all over the towels. That rapacious-like rock, those dried-out and plastics algae, all of it threw me back to September 25th, or even earlier, to the 14th. The first time of our team had been there(?), a year earlier. 
YSL Ltd. had written us a long and detailed e-mail inviting us to a meeting. They would have had provided us with all the necessary means. ALL EXPENSES COVERED, written just like that. 3 out of 7 had answered immediately, the others the following day. 5 had said yes. 2 had said no. Sometimes I think about those two.
I see them now, getting closer to the shipwreck that once was the "Chrisso." I suspect it transported oil. Nothing too polluting even though it had tended to be, back in the day. I hadn't even noticed it that day, because of the misleading sunset above us. 
In the following months we designed like crazy things that had nothing to do with that pinkish landscape. Now I ask myself if, somehow, that smooth feeling was present. None of us had ever designed or been part of a project like that before. We kept trying to crank out something decent, even without being asked. The whole operation was certainly curious and widely commented on by the media, both field-focused and not. An interesting article on thedajary.com challenged classically held views on the subject, comparing the product to a social experience, not in the moment of its actual use, but from its very origin.  
I admit I agree with them somehow, given that something had led us back there, a year later. I got on the kayak and began paddling to reach them. I was well-trained, it didn't take long.
WITH: Pietro Agostoni, Alessandro Agudio, Benni Bosetto, Barbara & Ale, Costanza Candeloro, Giovanni Delvecchio, Rebecca Di Berardino, Derek Di Fabio, Michele Gabriele, Marco Gobbi, Diego Gualandris, Lorenza Longhi, Andrea Magnani, Beatrice Marchi, Cristiano Menchini, Matteo Nasini, Margherita Raso, Riccardo Sala
Franchising Mercatino, Milaan
Via Zuretti, 60 - Milano
26.09 - 11.10.2015
Opening: 25.09 at 19:00