26.10.19 – 15.03.20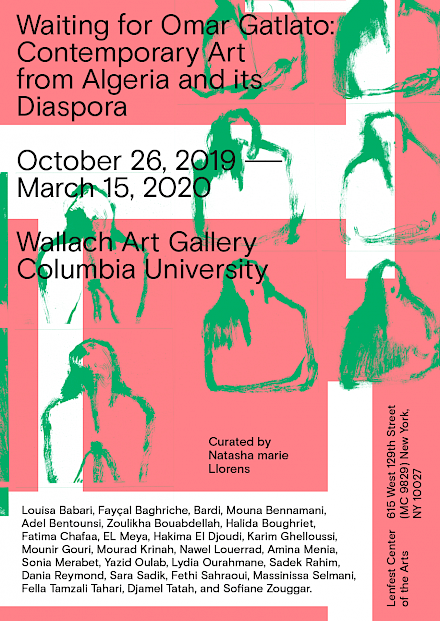 Waiting for Omar Gatlato: A Survey of Contemporary Art from Algeria and its Diaspora
Waiting for Omar Gatlato: A Survey of Contemporary Art from Algeria and its Diaspora - an exhibition curated by our participant Natasha marie Llorens - will be on show from 26 October - 15 March 2020 in New York at the Wallach Art Gallery.
Opening: 25 October, 18:00
The exhibition—an expansive examination of Algerian decolonial visual aesthetics—borrows its title from a 1979 publication on early Algerian film, edited by Wassyla Tamzali, which references Samuel Beckett's play Waiting for Godot, and Merzak Allouache's 1976 cult classic film Omar Gatlato. The exhibition title combines two important conceptual clues for how contemporary Algerian visual artists and filmmakers approach and engage art as the decolonization process evolves. Both source works are portraits of anti-heroes trying to make sense of their day-to-day lives.
The Waiting for Omar Gatlato exhibition advances diverse representations of everyday life in Algeria and its diaspora through film, paintings, photography and sculpture. There are works by 25 artists, including Louisa Babari, Fayçal Baghriche, Bardi, Mouna Bennamani, Adel Bentounsi, Zoulikha Bouabdellah, Halida Boughriet, Fatima Chafaa, EL Meya, Hakima El Djoudi, Karim Ghelloussi, Mounir Gouri, Mourad Krinah, Amina Menia, Sonia Merabet, Yazid Oulab, Lydia Ourahmane, Sadek Rahim, Dania Reymond, Sara Sadik, Fethi Sahraoui, Massinissa Selmani, Fella Tamzali Tahari, Djamel Tatah and Sofiane Zouggar.
After it closes at the Wallach, Waiting for Omar Gatlato will be expanded to include works from the collection of the National Centre for Plastic Arts of France, as well as new commissions by several emerging artists. The exhibition will be presented at La Friche de la Belle de Mai in Marseille in June 2020, at the invitation of Triangle France / Astérides in conjunction with Manifesta 2020.