23.11.19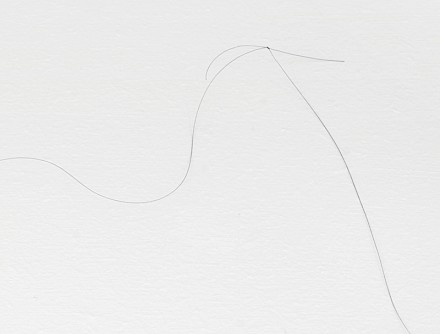 When Two Artists Meet
When Two Artists Meet is an exhibition by our former participants Charbel-joseph H. Boutros and Stéphanie Saadé, curated by the Jan van Eyck alumnus Vincent Verhoef.
OPENING
23 November, 18:00
rongwrong, Amsterdam
Day to day experiences of both artists manifest themselves in subtle yet precise traces bridging different temporalities and geographies throughout the gallery space. Places such as Beirut, Maastricht, Amsterdam and Guadeloupe are woven into each other, opening gates from the 50s to the 00s, the present and future revolutions. Can a pair of outdated shoes capture the residue of a certain season that has passed? Can trajectories embroidered on a blanket somehow encompass the memory of a specific street corner? Performative works become soft-voiced witnesses to stories slowly unraveled by the viewer, or perhaps the viewer superimposes one story on the other, mixes them up, forgets them.
The title for this duo exhibition at rongwrong is eponymous to a collaborative work the artists made in 2015. The work consists of a hair of each artist tied together.

Charbel-joseph H. Boutros (b. 1981, Lebanon)
lives and works between Beirut and Paris. In his work, invisibility is charged with intimate, geographical, and historical layers, finding poetic lines that extend beyond the realm of existing speculations and realities. H. Boutros was a resident at the Pavillon, Palais de Tokyo, Paris, and a researcher at the Jan van Eyck Academie, the Netherlands. His work has been shown internationally: The 12th Istanbul Biennial / Palais de Tokyo, Paris / S.M.A.K., Gent / Punta Della Dogana, Venice / Centre Pompidou, Metz / CCS Bard College, New York / La Criée, Rennes / Marres, Maastricht. His solo exhibition the Distance Between Your Eyes And The Sun is currently on view at the Beirut Art Center, part of Home Works 8, Ashkal Alwan Beirut.
He is represented by Grey Noise (Dxb) and Galeria Jaqueline Martins (São Paulo).
Stéphanie Saadé (b. 1983, Lebanon)
lives and works between Beirut, Amsterdam and Paris. She develops a language of suggestion, playing with poetics and metaphor. In her oeuvre, personal experience is invoked exclusively as a universal subject. Saadé was an artist in residence at tha Jan van Eyck Academie (2014/15) and Cité des arts Paris (2015). She is the recipient of AFK's 3Package Deal (2018/19). She had solo exhibitions in Museum Van Loon (Amsterdam), Parc Saint Léger and Maison Salvan (France). Her work has also been shown at Sharjah Biennale 13 / MOCA Toronto / Punta della Dogana, Venice / MUCEM, Marseille / MAXXI, Rome / MuHKA, Antwerp / Marres, Maastricht / La Criée, Rennes / Kunsthaus Pasquart, Biel / Les Abattoirs, Toulouse / CCS Bard College, New York / Beirut Art Center, Beirut.

When Two Artists Meet is part of Season 1 of the Ephemeral Evidence* program at rongwrong. Ephemeral Evidence is both a program of exhibitions and an attitude and methodology of work and research. This plan is a continuation of rongwrong's research into the blurring of the boundaries between individual and collective works, between exhibitions, performances and educational moments. The title Ephemeral Evidence is derived from the widespread text Ephemera as Evidence: Introductory notes to Queer Acts (1996) by Cuban-American performance writer Jose Esteban Munoz (1967 - 2013).