Apply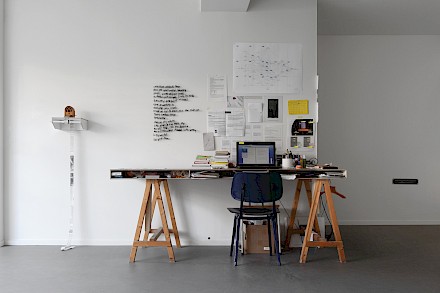 Every year you can apply for a residency of 12 months at the Jan van Eyck Academie. The annual call for applications is open from July–October.

Artists, designers, architects, landscape architects, curators, critics, fashion designers, writers are invited to apply.  Apply if you need the time and space that is needed to develop your talents, to discover as yet unexplored perspectives and delve into deeper layers of yourself. Every applicant shares our belief that insight comes through exchange with other: insight in the meaning of things, in your own practice, in the (art) world. The multiform character of the Van Eyck appeals to the artistic and intellectual versatility of the artists and enables them to deepen and ramify their talents and skills in the short and long run. The work of the artists testifies to an art practice that is investigative and committed.
FACTS
— A residency at the Jan van Eyck Academie lasts 12 months. A residency can start from either spring or autumn 2021. The starting date of your residency is determined by the Van Eyck.
— 32 up to 35 spots are available each year.
— There is no age limit (participants are generally between 26-42 years old).
— The registration fee is €70.
— The enrolment fee amounts to €2,750 at an annual basis. The enrolment fee should be paid before 1 February 2021.
— Participants receive a monthly stipend of €900 and a working budget of €2,000 annually.
— Duo's or collectives can apply with 1 project proposal for 1 residency at the Jan van Eyck. When selected they will share 1 studio and 1 stipend. In that case the enrolment fee has to be paid only once. 
— Participants are expected to settle in Maastricht or direct surroundings (in a radius of 10 km) during their stay at the academy.
The application form will be online as soon as the call opens.
You can find all info on the application process here

For further questions: application@janvaneyck.nl