In-Labs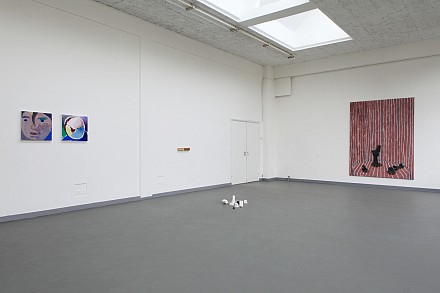 De In-Labs zijn zelfgevormde modules waarvan de invulling geheel afhangt van de input en ideeën van de initiatiefnemers: de deelnemers. Een In-Lab biedt gelijkgestemde deelnemers de mogelijkheid inzichten en vaardigheden in de eigen discipline te vergroten, of juist discipline overschrijdend te werken, een onderwerp uit te diepen, of de kritische discussie over het eigen werk te verbreden. Deelnemers kunnen ook experts van buiten uitnodigen om deel te nemen aan In-Labs. 
 
In-Lab 2018:
Magical Riso In-Lab
In-Lab 2016-2017:
FGFG — A Kitchen Debate
Artists, designers, critics, cooks, activists, etc. were invited to demonstrate their approach to the issue of food and its production. On both the individual and collective level, as well as its relationship to the local and the global. The intention is neither to separate nor to prioritise theory over practice. In short, the aim is to present their philoso-food in favour of a new organisational ecology.
Organised by participant Ju Hyun Lee
In-Labs 2015:
Het CYBER / NET / ICS
Dit In-Lab onderzocht Cybernetica vanuit verschillende perspectieven: zoals de utopische en dystopische concepten van de hersenen als een 'controlroom'; de ontwikkeling van de percepties en de grenzen van ons zelf en de perceptie en het gebruik van ruimte en tijd in virtual reality. Deelnemers: Antje Guenther, Alessandro Bertelle, Hanna Nilsson & Rasmus Svensson. Gasten: schrijver en kunstenaar Jenna Sutela (FI), biohacker Tao Taler (NL) en Claus Pias (DE) Professor Media Theorie, Centre for Digital Cultures Lueneburg.


Two Times One
Dit In-Lab ontwikkelde een publicatie die gedrukt en uitgegeven zal worden in de Van Eyck. De publicatie zal in twee delen geproduceerd worden, het eerste deel in oktober 2015, het tweede in februari 2016. Deze publicatie verkende vanuit verschillende perspectieven twee thema's die in elkaar grijpen. Het eerste deel werd gewijd aan Compression, het tweede aan Augmentation. De redactie, bestaande uit een groep deelnemers, vroeg bijdragen van schrijvers, kunstenaars, architecten en mensen uit allerlei disciplines wier werk betrekking heeft op de thema's. Deelnemers: Beny Wagner, Christophe Clarijs, Alina Schmuch, Ruben Castro, Teresa Cos, Golnar Abbasi, Marine Delgado. Bijdragen van: Genevieve Robichaud, Robert Rapoport, Lua Vollard, Joe Neave, Till Wittwer, Sophia Holst, Clemens Jahn, Samaneh Moafi, Dafne Boggeri, Gilda Manfring, Molood Jaberi, Timo Demollin, Sean Fabi.

Screen Matter
Dit In-Lab nodigde audiovisuele kunstenaars die een persoonlijke, typerende werkwijze hanteren uit om hun films te vertonen die vervolgens werden besproken. De deelnemers aan het In-Lab wilden een discussie op gang brengen over de investering en de commitment van zulke kunstenaars in hun werkwijze en onderzoeken welke impact dit op de inhoud van het werkt heeft. Deelnemers: Alessandro Bertelle, Beny Wagner, Graham Kelly, Daniel Jacoby. Gasten: Imri Kahn (kunstenaar), Anna Zett (kunstenaar), Julian Ross (curator, schrijver), Sven Lütticken (kunstcriticus, -historicus), Ben Rivers (filmmaker en kunstenaar), Aily Nash (curator).

Images of Destruction of Images
Dit In-Lab hield zich bezig met beelden van vernietiging en de vernietiging van het beeld. Het ging uit van de stelling dat in onze tijd vernietiging en beelden gelijktijdig en verweven zijn. Het recente fenomeen, zoals zich dat voordoet met de vernietiging door IS en de bijbehorende virale, online beeldspraak – werd in perspectief gezet door te kijken naar de recente en minder recente geschiedenis en geografie van vernietiging en (het gebrek aan) beelden daarvan. Deelnemers: Urok Shirhan and Jason Hendrik Hansma.
In 2014 zijn de volgende In-Labs opgestart:
In-Lab—Return to the Cinema
The artist's moving image is often in a precarious position within the exhibition space; for example, its need for darkness, comfortable seating and its fixed start and end times are often in opposition to the emphasis on light and the flow of foot traffic intrinsic to most museums and galleries.
Over 5 months, The Return to the Cinema In-Lab hosted four screenings (with films by Erik van Lieshout, Wendelien Oldenborgh, Beatrice Gibson and Keren Cytter) at the Lumière Cinema in Maastricht. The purpose was to enable thinking about the artistic moving image outside of the context of the exhibition space, both in terms of the viewing experience and in relation to the populism of the cinema - can artists' moving image work become part of mainstream image consumption and introduce the video or filmic image of the artist to the local cinema?
Participants: Blaine Western, Ellen Venus Feiss, Andrea Serego di Alighieri, Anton Stuckardt, Joris Lindhout
 In-Lab—Fiction
the Fiction In-Lab started reading the novella The seven most exciting hours of Mr. Trier's life in twenty-four chapters by artist Keren Cytter, encountered writers such as Adam Thirlwell and Will Self along the way and ended its eclectic foray into literary fiction with a discussion on the podcast Serial by journalist Sarah Koenig (investigative journalism using techniques from the world of fiction).
Participants: 
Nina Thibo, Ilse van Rijn, Sunette Viljoen, Blas Isasi, Blaine Western, Kym Ward, Joris Lindhout
In-Lab—Knowledge Is A Does
The Knowledge Is A Does reading group was interested in the formation and perpetuation of the subjectivity of communities and individuals. Embracing knowledge as material, considering its dissemination, movement, points of connection and network potential., the In-Lab asked: who gets to speak, how much of that dialogue is necessary, where does transparency apply, and how is Western universal reason harmful to global justice? Ccore texts were Paranoid vs. Reparative Reading: Or You're so Paranoid I Bet You Think This Essay Is about You by Eve Kosofsky Sedgwick and Cruel Optimism: on Marx, Loss and the Senses by Lauren Berlant. The ideas and knowledge acquired became the material for developing a programme for the Jan van Eyck's community and public.
Participants: Alexis Blake, Ellen Feiss, Toon Fibbe, Ilke Gers, Conny Karlsson Lundgren, Hana Miletićc, Karisa Senavitis, Kym Ward, Katharina Zimmerhackl
Advisors: Bik Van Der Pol
In-Lab—The History of Food in Maastricht
Within the Netherlands, Maastricht is one of the few places known for its food culture, a feat extensively used for tourism marketing by the city and its inhabitants because it is token of their cultural identity. As a group of new arrivals to the city, we were intrigued by all this food-talk and decided to investigate. Our research into the local food culture became a means of getting to know each other and our new surroundings.
Participants: Dario D'Aronco, Sunette Viljoen, FrancoisFrançois Dey, Matylda Krzykowski, Oliver Bulas, Blas Isasi, Roosje Klap, Anne Callahan, Sanne Vaassen, Blaine Western, Cedar Lewisohn, Joris Lindhout 
In-Lab—White Elephant
What is a book and why make one? These basic questions were the starting point for the discussions in the White Elephant. Books are traditionally a means of creating and sharing knowledge; circulation and visibility are therefore essential. Considering the book as a transportable exhibition device, it offers interesting possibilities for the visibility of artistic works, practices and experiments in printed matter that oscillate between 'original' artwork and informational medium.
The Jan van Eyck has a tradition of publishing and bookmaking, especially focussing on artists' publications. The White Elephant was a space for constant reflection and mutual support; sharing our knowledge and experience about bookmaking and book-design and discussing the possibilities of the Charles Nypels Lab: the Van Eyck print studio. In addition to the meetings, a series of Book Salons were held in the held in the Pierre Kemp Lab: the Van Eyck library. They were organised in collaboration with advisor Susanne Kriemann and librarian Annet Perry-Schoot Uiterkamp.
Participants: Anna Bak, Anne Callahan, Martin La Roche Contreras, Cedar Lewisohn, Hana MiletićHana Miletic, Katharina Zimmerhackl
Advisor: Susanne Kriemann
In-Lab—The Farm
The Farm is an equal and temporary society that is focused on production. The Farm is devoted to the practice of making, discussing and organising art and design through experiment. The Farm can be a holding of any size and take place anywhere. It can be operated by designers, artists, theorists or writers, and in fact, by anyone. Everyone who joins The Farm can use all the harvested knowledge.
Participants: Matylda Krzykowski, Anna Bak and Christophe Clarijs
In-Lab—Writing
Language needs attention. That is the simple conviction behind the Writing In-Lab at the Van Eyck. The In-Lab is defined by what participants bring to the table. In its first year, the In-Lab focused on the question of how to write about art, and then on reflections of the participants' own work. In last year's In-Lab, a lot of fiction emerged that had developed in parallel to the artists' visual practice or as an extension of it.
Participants: Anna Bak, François Dey, Blas Isasi Gutiérrez, Cedar Lewisohn, Joris Lindhout, Hana Miletićc, Karisa Senavitis, Nina Thibo
Advisors: Jurriaan Benschop, Erik Lindner.
In 2013 zijn de eerste zeven In-Labs opgestart:
Moving Images of Speculation In-Lab: een artistiek onderzoek waarin een inventaris wordt gemaakt van het postfilmisch bewustzijn tegen de achtergrond van de financiële crisis. Deelnemers: Oliver Bulas, Marcel Dickhage, Filip Van Dingenen, Stefano Faoro, Jan Hoeft, Julia Kul, Sonja Lau, Cathérine Lommée, Valle Medina, Rachel O'Reilly, Vijai Patchineelam, Benjamin Reynolds, Alessandra Saviotti, Cathleen Schuster, Jelena Vesic.
Curatorial Practice and its Translations In-Lab: onderzoekt de verbanden tussen het cureren en het kritisch schrijven. Het geeft een nieuwe invulling aan de links tussen de taak van curator en die van redacteur: tentoonstellingen worden 'vertaald' in boeken en boeken worden 'vertaald' in tentoonstellingen. 
Deelnemers: Marcel Dickhage , Stfano Faoro, Sonja Lau, Rachel O'Reilly, Vijai Patchineelam, Cathleen Schuster, Coördinator: Jelena Vesic
EP In-Lab. Fiction as a strategy in contemporary art and design: A semi-fictional conversation*: Het EP cahier is een kritisch onderbouwde reeks van publicaties die kunst, ontwerp en architectuur verbindt. De reeks creëert een discursief platform dat zich bevindt tussen populaire magazines ('single play') en academische tijdschriften ('long play') door het concept van 'extended play' in publishing te introduceren. Deelnemers: Benjamin Reynolds, Valle Medina, Marcel Dickhage, Cathleen Schuster, Rachel O'Reilly, Sjoerd Westbroek, Esmé Valk, Paul Bailey. Coördinatoren: Ilse van Rijn en Huib Haye van de Werf
Painting In-Lab: is een discussie- en productieplatform opgericht om te reflecteren op zaken die specifiek betrekking hebben op de praktijk en de receptie van de schilderkunst. Binnen het In-Lab werden teksten of een specifiek thema binnen het werk van een schilder besproken en het eigen werk kritisch bekeken. Deelnemers: Ellen De Meutter, Hyojun Hyun, Inga Meldere, Keetje Mans, Thomas I'Anson, Vincent Verhoef en tutor Jurriaan Benschop
Writing In-Lab: binnen dit In-Lab werden teksten die deelnemers ze over hun beeldend werk schrijven, kritisch besproken. Deelnemers: Cathérine Lommée, Charbel-joseph H. Boutros, Dongyoung Lee, Ellen De Meutter, Esmé Valk, Filip van Dingenen, Hyojun Hyun, Michiel Hilbrink, Rodrigo Hernández, adviseur Jurriaan Benschop en poet-in-residence Erik Lindner
Labin In-Lab. is een publishing platform voor de Van Eyck deelnemers die hun ervaringen aan de Van Eyck en de weerslag hiervan op hun werk documenteert en handelt over de specifieke onderzoeken naar artistieke en ontwerppraktijken. Deelnemers: Rodrigo Hernández, Dongyoung Lee, Michiel Hilbrink, Valle Medina, Ben Reynolds, Sonja Lau, Marcel Dickhage, Jan Hoeft, Julia Kul, Rachel O'Reilly, Cathleen Schuster, Vijai Patchineelam, Jelena Vesic. Adviseurs: Bik van der Pol, Hans Christian Dany, Susanne Kriemann. Coordinators: Dongyoung Lee, Rachel O'Reilly
What If In-Lab: In dit In-Lab worden de visie en verbeelding van bepaalde deelnemers aan elkaar gekoppeld. Doelstelling is een gemeenschappelijk platform voor nieuwsgierige geesten over de disciplines heen op te zetten. Deelnemers: Valle Medina, Benjamin Reynolds, Alessandra Saviotti, Julia Kul, Coördinators: Filip van Dingenen, Oscar Santillan